Staff at NGA
For the full list of staff at the Nottingham Girls' Academy, please select the appropriate list.
These details are correct as of 4 September 2023.
The Academy is led by Mr D Tungate, the Principal.
There is also a Senior Leadership Team (SLT) of a Deputy Principal, Assistant Principals and Associate Assistant Principals.
Curriculum Management is undertaken by Heads of Faculty who are responsible for the efficient delivery of the National Curriculum.
Year Heads manage the pastoral teams and oversee the pastoral welfare of all pupils.
The Senior Leadership Team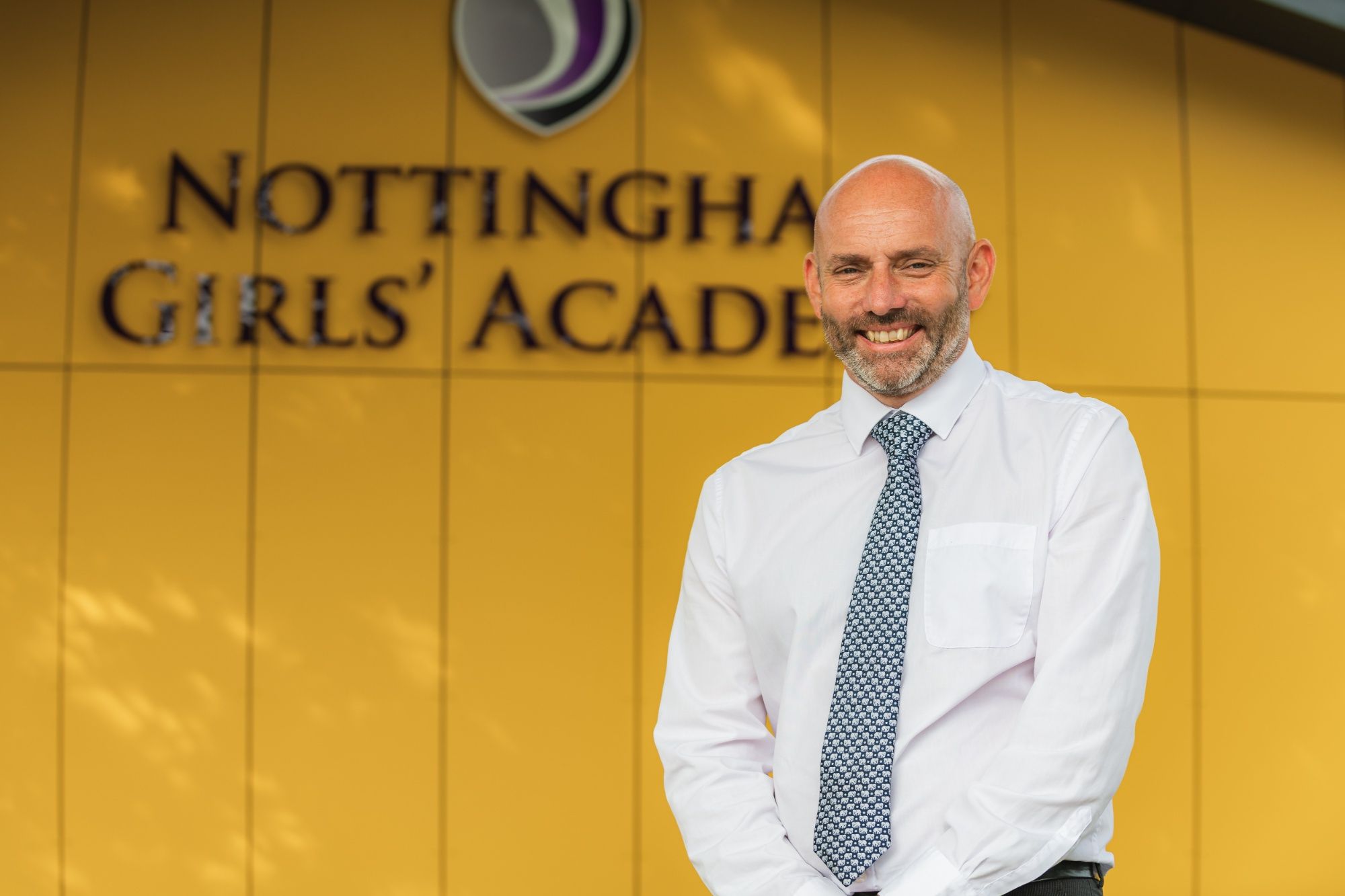 D Tungate
Principal
Overall Effectiveness
Faculty link for:
Science
Humanities
Social Science
J Mora
Deputy Principal
Quality of Education
Faculty link for:
English & Media
Mathematics
MFL
T Carey

Assistant Principal

Curriculum Intent

K Meade

Assistant Principal

Curriculum Implementation

Pastoral link for:

Year 11

Faculty link for:

Literacy

SEND

J Evans

Assistant Principal

Curriculum Impact

Pastoral link for:

Sixth Form

Faculty link for:

Performing Arts

Creative Arts
M Brown
PA to the Principal/Admin Manager
M Heron

Assistant Principal

Personal Development

Pastoral link for:

Year 7

R Turner-Ramadan

Assistant Principal

Behaviour & Attitudes

Pastoral link for:

Year 9

A Marshall

Associate Assistant Principal

Vocational Qualifications/Enhancing Teaching and Learning Through Technology

Pastoral Link for:

Year 10

Faculty Link for:

Business & Computing

A Evans

Associate Assistant Principal

Equality & Diversity

Pastoral Link for:

Year 8

Faculty Link for:

P.E
V Brierley
Regional Finance Manager

W Chapman

Designated Safeguarding Lead

Z Scholtz

Special Educational Needs Coordinator
Faculty Teams
English and Media
| | |
| --- | --- |
| English | |
| J Simpson | Head of Faculty |
| K Fisher | |
| S Al-Najjar | KS3 English Coordinator |
| B Hughes | |
| K Meade | Assistant Principal |
| M Mehan-Passi | |
| C Tucker | Key Stage 4 Coordinator |
| L Leeder | |
| | |
| Media | |
| B Asher | Head of Year 10 / Teacher i/c Media |
Mathematics
| | |
| --- | --- |
| M Booth | Head of Faculty |
| C Mullings | 2nd in Faculty / Numeracy Coordinator |
| S Elharm | |
| J Rushby | ITT Coordinator / Key Stage Coordinator |
| C Taylor | Acting Assistant Head of Year 9 / Extended Project Coordinator |
| D Tungate | Principal |
| N Younas | |
| N Amies | Key Stage 5 Coordinator |
| R Gascoyne | |
| K Telamitsi | |
Science
| | |
| --- | --- |
| C Stapleton | Head of Faculty |
| E Sherriff | Head of Year 12 |
| A Green | 2nd in Faculty / STEM Coordinator |
| H Kaur | |
| A Kotze | Head of Year 11 |
| S Mahmood | 3rd in Faculty |
| K Megran | 3rd in Faculty |
| N Strachan | |
| J Van Den Broek | Extended Project Coordinator |
| B Oakes | |
Humanities
| | |
| --- | --- |
| C Hodgson | Head of Faculty |
| P Coole | Teacher i/c Geography |
| M Russell | Teacher i/c History |
| K Castledine-Casey | Head of Year 7 |
| G Mudd | |
| E Richardson | Head of Year 8 |
| S Watson | Head of Year 9 (Maternity) |
| S Parfitt | |
Modern Foreign Languages
| | |
| --- | --- |
| N Cross | Head of Faculty |
| T Carey | Assistant Principal |
| R Gangneux | PSHE Coordinator |
| S Jones | (Maternity) |
| E Lowry | 2nd in Faculty |
| J Mora | Deputy Principal |
Computing & Business

| | |
| --- | --- |
| A Gaskell | Head of Faculty |
| M Heron | Assistant Principal |
| F Glover | |
| N Lawrence | |
Creative Arts
| | |
| --- | --- |
| Technology | |
| R Harding | Head of Faculty |
| N Lawrence | |
| A Traylor | |
| A Wickramasinha | |
| | |
| Art | |
| J Pye | Teacher i/c Art |
PE & Sport
| | |
| --- | --- |
| V Henderson | Head of Faculty |
| C Burke | Standards and Progress Lead - Year 11 |
| B Oakes | |
| R Turner-Ramadan | Assistant Principal |
Performing Arts
| | |
| --- | --- |
| Dance | |
| J Hawley | Head of Faculty (Maternity) |
| L Tyers | Acting Head of Performing Arts |
| A McIlhone | |
| | |
| Drama | |
| K Menz | |
| | |
| Music | |
| L Downie-Tosini | Teacher i/c Music/ Acting Head of Performing Arts |
| R Johnson | Instructor of Music |
| | |
| PERI | |
| T Davis | Brass |
| R Johnson | Strings |
| J Ford | Guitar |
| A Rockley | Drums |
| A Stewart | Drums |
Social Sciences
| | |
| --- | --- |
| A Evans | Head of Faculty |
| U Arif | Teacher i/c RE, T&L Lead: Literacy and Reading |
| J Evans | Assistant Principal |
| N Griffiths | Teacher i/c Health and Social Care/ Head of Sixth Form |
| A Suter | |
| E Richardson | |
| R Turner-Ramadan | Assistant Principal |
Learning Support
| | |
| --- | --- |
| Z Scholtz | Head of Faculty / SENDCo |
| A Scotney | Deputy SENDCo |
| L Murphy | SEND Teacher |
| L Ching | SEND Learning Mentor |
| K Cox | Literacy Coordinator |
| B Dowell | SEND Learning Mentor |
| D Harvey | Teaching Assistant |
| D McFaul | SEND Learning Mentor |
| Z Mohammed | SEND Learning Mentor |
| S Rivers | SEND Learning Mentor |
| L Sadegh-Tehrani | SEND Learning Mentor |
| S Watson | SEND Learning Mentor |
| H Stackhouse | SEND Administrator |
| M Smalley | Performing Arts and Communications Assistant |
Pastoral Teams
Year 7
| | |
| --- | --- |
| K Castledine-Casey | Head of Year |
| D Hartshorn | Deputy Head of Year |
| M Heron | SLT Link |
Year 8
| | |
| --- | --- |
| E Richardson | Head of Year |
| C Burton | Deputy Head of Year |
| A Evans | SLT Link |
Year 9
| | |
| --- | --- |
| R Jordan | Acting Head of Year |
| C Taylor | Acting Assistant Head of Year |
| R Turner-Ramadan | SLT Link |
Year 10
| | |
| --- | --- |
| B Asher | Head of Year |
| R Williams | Deputy Head of Year |
| A Marshall | SLT Link |
Year 11
| | |
| --- | --- |
| A Kotze | Head of Year |
| H Stead | Deputy Head of Year |
| C Burke | Standards and Progress Lead |
| K Meade | SLT Link |
Sixth Form
| | |
| --- | --- |
| N Griffiths | Head of Sixth Form |
| E Sherriff | Head of Year 12 |
| T Johnson | Deputy Head of Year |
| J Evans | SLT Link |
Pupil Welfare
| | |
| --- | --- |
| W Chapman | DSL |
| J Steeples | Education Welfare Officer |
| R Turner-Ramadan | SLT Link |
Support Teams
Administrative Staff
| | |
| --- | --- |
| M Brown | PA to the Principal/Admin Manager |
| K Braisby | Cover Manager |
| J O'Leary | Cover Supervisor |
| C Macfarlane | Examinations Officer |
| N Walters | Data Assistant |
| A Norman | Reprographics Technician / Administrator |
| M France-Soar | Receptionist / Administrator |
| L Norman | Receptionist / Administrator |
| S Tattershall | Senior Technician/H & S Contact |
| J Jennings | Technology Technician |
| K Everard-Diuk | Careers Advisor and Administrator |
| C Redding | Academy Counsellor |
| S Allsopp | Librarian |
Finance Staff
| | |
| --- | --- |
| V Brierley | Regional Finance Manager |
| J Hubbard | Finance Officer |
Site Staff
| | |
| --- | --- |
| J Pike | Premises Leader |
| C Terzza | Premises Officer |
| N Stewart | Acting Premises Assistant |
| S Whittaker | Cleaner/Midday Supervisory Assistant |
Catering Staff
| | |
| --- | --- |
| B Grady | Chef Manager |
| B Collington | Assistant Chef |
| L Akhtar | Catering Assistant |
| J Cassidy | Catering Assistant |
| J Dickinson | Catering Assistant |
| J Gunn | Catering Assistant |
| L Middleton | Catering Assistant |
| T Klingensteins | Catering Assistant |
| S Dapaah | Midday Supervisory Assistant |
| S Whittaker | Midday Supervisory Assistant |